JKRowling.com: "No News is Good News" (Except there's lots of news)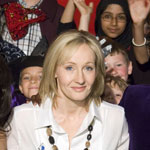 Dec 10, 2004
Uncategorized
Our favorite author has updated her site, explaining why "No News is Good News":
I have nothing noteworthy to report, because I have been spending nearly all my time sitting in front of my computer writing, re-writing and taking the occasional break to bang my head off the desk in frustration or else rub my hands together in fiendish glee (I think the latter has happened once). Meanwhile, the distance between the keyboard and yours truly increases day by day as my third child races Harry's next adventure into the world.
So it's J.K. Rowling's third child and the sixth Harry Potter in a dead heat…who'll make it here first? We don't know, but it does seem to mean the two will not be far apart! J.K. Rowling's child is due sometime in the late winter or spring.
Jo has also updated her rumor section to say that rumors of Harry leaving the Dursleys to stand trial again in book six are false, and that he leaves Privet Drive early for a "much pleasanter reason than a court case." Update: Jo has been updating this section even further, addressing rumors about Luna and Neville as a couple, the attack on the Longbottom family, the Prewett brothers, and the chocolate wizard cards. Phew! Check it out!
Also in the Rubbish Bin, the smackdown on calling her 'Joanie.' (No one ever has, the paper that reported it was wrong, and her husband just might call her Kevin…:)
Despite her claims of no new news, we seem to be getting quite a few tidbits today. In addition to all the rumor updates, Jo has also added a few new bits in the Extra stuff section about Wands and Squibs.
In addition, the About the Books section has received many updates, answering questions about Hermione's age, the Marauders, and Godric's Hollow amoung others. There's a new FAQ poll for us to vote on, so be sure to check that out as well.
Jo has also awarded her fan site award to HPANA. Congratulations to Jeff and all the staff at HPANA.com!
There should be an update our Floo partner, The Harry Potter Lexicon, soon!