Amazon.com Notification on Book Six: 'Not in Forseeable Future'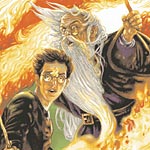 Dec 15, 2004
Uncategorized
A horde of you have e-mailed to tell us that Amazon.com has sent you this notice:
"You previously signed up to be notified when Harry Potter and the Half-Blood Prince (Book 6) became available. Unfortunately, we've learned from our supplier that this item will not be available from our suppliers in the foreseeable future.

Someone may be selling this item through Amazon.com Auctions or zShops. We encourage you to search for it there if you're still interested in purchasing this item.
We can only say this: Relax. It sounds like a glitch or a form letter, and still shouldn't have any bearing on what JKR does (though we'll certainly look into it).