Get a Clue Update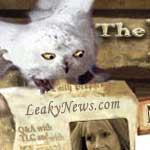 Dec 16, 2004
Uncategorized
As usual, you've astounded us. Thank you to all of our readers who have contributed to our Get a Clue charity drive, both through sticker orders and donations. In the short amount of time since the drive began, you've already raised a very nice amount of money for charity, with orders still pouring in!
(Go here for purchasing/donating info and a special message from Matt Lewis, Jamie Waylett and Devon Murray, who also want you to give a galleon, even if they can't quite say it.)
Several people have emailed to ask about delivery dates. While we can't promise that your postal service will deliver by the 24th, we can tell you this: if you want us to get your order in the mail by Monday, we MUST receive it by 11:59pm this Saturday (the 18th), EST. This is your last change at a holiday order, folks – if you've been thinking of ordering, please go ahead and do so immediately! Remember, every dollar above cost goes to the Leaky's favorite charity, Book Aid International.
In addition, we'd like to notify everyone of a design change – the static sticker (the version that goes inside your car window) will be white on clear instead of black on white – in the test run, we found that the white on clear shows up much better in a window. The sticky versions are black lettering on a white background. We think you'll be pleased – both versions look fantastic.
Thanks again for your support, and please keep those orders coming!