Followup: More on Franz Ferdinand and the Goblet of Fire Film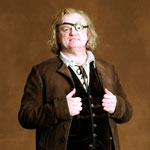 Dec 18, 2004
Uncategorized
Previously, we had told you that Scottish group Franz Ferdinand was to be in the next Harry Potter film to perform as The Weird Sisters band for the Yule Ball scene. Then in November, they decided they would not appear in Goblet of Fire after all. Scotland on Sunday has more on the reason for this decision:
This week, however, a spokesman from the band's PR company confirmed that "scheduling difficulties" had resulted in the Glasgow group breaking off discussions with Warner Brothers.

The spokesman said Harry Potter and the Goblet of Fire, which began shooting in March, clashed with the band's demanding tour schedule, including concerts across America and Japan.

And he played down suggestions that the band had effectively been "signed up" for an appearance. "There was talk about them appearing in the film and we had spoken to the Harry Potter people about it," he said. "But they wanted to do the filming before Christmas. Despite what was said in the press they were never really in it."
The article goes on to confirm earlier reports on the band's replacement in the film.
Franz Ferdinand's place in the movie will be filled by Radiohead guitarist Jonny Greenwood and former Pulp singer Jarvis Cocker.

Somerville added: "They are probably better with an anonymous guitarist, albeit one from a hugely famous band, and Jarvis Cocker, since he looks like he could teach at Hogwarts."