JKRowling.com: Door Open – A VERY Happy Christmas, Everyone!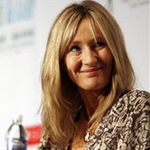 Dec 20, 2004
Uncategorized
The door is open again on JKRowling.com. Click below to find out what you have to do to open it, and more about what's inside. Thanks speedy Emily!
There is an EXCELLENT message waiting inside but we're not putting it on the main page for a few more hours yet!
Click the Christmas tree in the mirror; apparently the gifts under the tree, when clicked, only turn off the lights in the room thus far. Perhaps we have to wait until Christmas morning?
Update: Ellen says you can drag the presents up and they levitate, and the room doesn't go dark. There are six unlit candles, six presents, six Christmas lights of each color and six people in the picture up on the left, six points on the star – remember we're hoping for info on book six. And now there seems to be something floating around about questions and answers…hang tight.
And – there are only five cards. Which means perhaps we're searching for the sixth?
UPDATE: A ha. There are questions when you click the presents. Click away!
The tags hold questions, one of which is this riddle:
I cannot be other than what I am
Until the man who made me dies
Power and glory will fall to me, finally
Only when he last closes his eyes
(PRINCE)
And this one:
Two in a whole, and four in a pair
And six in a trio, you see?
Eight's a quartet,
But what you must get
Is the name of just one of me.
(HALF)
And:
Say you'd never seek to lose me
While you live we cannot part
I must dwell lifelong inside you
Locked within your beating heart
(BLOOD)
Also asked:
What is Ron Weasley's least favorite luncheon meat? (CORNED BEEF)
What form does Hermione's Patronus take? (OTTER)
What city did baby Harry fly over? (BRISTOL)
When you're done, there's a message from Jo that says there will be a release date from her publishers for HBP IN THE NEXT 24 HOURS.
Oh, Jo. Jo, Jo, Jo. We hope you're laughing at us crazies.
Here's the text of her Chirstmas message:
I know you all expected this to happen on Christmas day, but I was sure that those of you who celebrate Christmas have better things to on the day itself do than to fight your way into my study, whereas those of you who DON'T celebrate Christmas would definitely prefer not to wait until the twenty fifth so…

'Harry Potter and the Half-Blood Prince' is COMPLETED and has been delivered to my English language publishers, who hope to announce the publication date within 24 hours.

Although I have joked about HP&THBP racing my third baby into the world, I have in fact had all the time I needed to tinker with the manuscript to my satisfaction and I am as happy as I have ever been with the end result. I only hope you feel that it was worth the wait when you finally read it!

Wishing everybody a wonderful holiday and a happy and peaceful 2005,
With love from,
JK Rowling."
My heart's going much too fast for this. Excuse me all, I'll be back in a bit.