REVIEW: Unofficial Half-Blood Prince by WF Zimmerman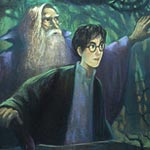 Dec 20, 2004
Uncategorized
With the excitement building for the release of J.K.Rowling's newest installment in the Harry Potter series, it was inevitable that someone would write a book about the upcoming sixth novel to help pass the time. We at Leaky received a review copy of one such book, the Unofficial Half-Blood Prince Update: News and Speculation about Harry Potter Book Six by W. Frederick Zimmerman, and after reading it found it was basically a recap of what has been posted for free, both here and on the world wide web about the upcoming Harry Potter book – and would hate our readers to buy anything Harry Potter related without knowing exactly what they're getting into.
WHAT: Unofficial 'Half-Blood' Prince book: A compilation of readily known facts and quotes from author J.K.Rowling about her new, yet to be released, Harry Potter and the Half-Blood Prince book, mixed in with theory and water cooler speculation.
HOW: Pay Amazon $15.00 for print copy or download at home.
VERDICT:: Strictly for the Harry Potter novice, obsessive fan, or someone who can't figure out how to Google Harry Potter information themselves.
BOTTOM LINE: Suckers only, one of those companion books that doesn't do much companioning. Save the 15 bucks and print Leaky's HBP FAQ for free.
Click below for the full review.
Unofficial 'Half-Blood Prince' Update: News and Speculation about Harry Potter Book Six, by by WF Zimmerman
Review by Sue Upton for The-Leaky-Cauldron.org.
I am always eager to read anything I can get my hands on about Jo's wonderful world, and was looking forward to reading this, but was disappointed to find that it did not contain any new information. Yes, the book does have some of the facts and quotes from the Harry Potter author contained in our own FAQ to the book. However, this unofficial guide is also sprinkled with supposition and speculation from sources other than J.K. Rowling, including theories found on Live Journal, fan-site forums, and in Potter related chat rooms.
The book is divided into five sections, including ones supposedly about book six, books six and seven together, book seven, a possible book 8, and a cute section on what to do while you wait for the book. But the information and quotes about just what should be just for book six, for example, is not limited to just that section, and therefore I found the organization of the material at times awkward and not properly sorted. There are also screen shots from JKRowling.com of the open door to Jo's office with the newest information that she shares with us about the HBP.
But please note: You can also find this information available on the web via our FlooNetwork partner the Harry PotterThe Harry Potter Lexicon, or if you prefer at Potterkeys.com.
Zimmerman is good to specify the many website Internet addresses that you can reference and check out yourself for information. It was clear that this author is a fan of Rowling's books, and his unofficial guide reflects a fans perspective. Having said that, there is much speculation included based on factual quotes from J.K.Rowling, including one by Mr. Zimmerman as an analysis on the sentence that Jo released from Half-Blood Prince, along with many theories from fans about their guesses who the Half-Blood Prince actually is. There is also mention of some purely hypothetical information, such as "What will the cover look like?" with a link to fan-art from MuggleNet.
Another hypothetical assertion contained in the Unofficial Guide involved the inclusion of a transcript of a series of visits to a chat room by someone who may or may not have been J.K.Rowling, which caused a flutter in the fandom a few weeks ago (it was apart from the visit to the MuggleNet chatroom she speaks of on her site). Mr. Zimmerman does label this as "an interesting scenario," but I, as a fan looking for credible information, am not interested in reading pure speculation and rumor; the supposed JKR episode has yet to be proven or even become convincing. (This supposed Rowling said in the chat that Lupin was half-blooded – which she has said publicly before – and that chapter nine in Goblet of Fire was important, something we're willing to bet applies to all chapters). It is worth noting as well that Jo did jokingly mention one visit to a MuggleNet chat room on her site, but I found this section detracted from the overall intent of the book.
Finally, there are mentions of some news items which we posted here on Leaky, such as the portion about what titles have been registered by Warner Brothers. The final section also contains suggestions of where to go to look on the internet for information about the Half-Blood Prince, some fan fiction websites, a few discussion groups and the like. There are also some fun parodies of songs, revamped with a Half-Blood Prince theme. And finally, there is a section called FAQ's, that contain supposed major spoilers, but these are really things such as: "Who are the heads of Hufflepuff and Ravenclaw ?" which in my mind, can hardly be categorized as a spoiler. These things are part of the list included from what Jo has answered in her own FAQ and Rumour section of her official website.
This book is available from Amazon.com for $14.99 (USD)in print and $11.99 PDF form, which you can pay to download at home. The author is careful to update a soon after Jo updates her website with the new information. So, if you choose, you can pay again to have the updated version. Of course, this does not help the ones who purchase the paperback version, which will quickly be outdated given Jo's tendency to update her site every month or so.
Bottom line: This book is strictly for the novice, or someone who doesn't want to look on the Internet for information. (Or for the strictly obsessive fan who wants every tiny bit of speculation and theory they can get their hand on regardless of the obvious theories, and repetition of what you already know.) My recommendation: Buy this if you are new to the Potter world and need to catch up, or else are desperate to have something physically in hand until Harry Potter and the Half- Blood Prince is released. My advice to the rest of us fans: Save yourself the $15 and go to the many good sites who have Half-Blood Prince info (such as the one we have here, click on the link, choose "text," then "print." You will be better served with quality of complete factual information, and less cost out of pocket.