Harry Potter and the Half-Blood Prince Good for Business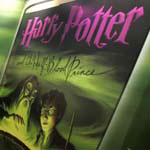 Dec 21, 2004
Uncategorized
Today's news of a release date for Harry Potter and the Half-Blood Prince is good for business, at least those in the bookselling business. MSNBC has this report with a quote from an official from Barnes & Noble who said:
"Sales from the last Harry Potter book grossed as much as a major Hollywood movie in its first week of release," Steve Riggio, chief executive officer of Barnes & Noble, said in a statement Tuesday.

"We expect this next book in the series to make publishing history once again. We've already collected 500,000 e-mail requests from our customers waiting to be notified of the date of the next book so this announcement is very welcome news for readers everywhere."
Meanwhile stock prices for the publishers of the Harry Potter books went up today as a result of the announcement of a release date. Bloomsbury stocks were up the highest in several years by as much as 8.2%. Scholastic prices jumped up 4 % in early morning trading.