Happy Christmas to All, and to All a Good Night!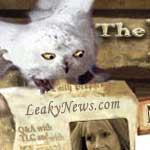 Dec 23, 2004
Uncategorized
I'm wrapping up work, as I know are many of you, and various Leaksters are boarding various planes (or not, as in Kristin's case, due to snow) to go home for the holidays. We want to take this moment to wish you all a very, very wonderful holiday, no matter what you celebrate.
We know you're itching to do the same to each other. Feel free to use the comments below this post to wish your fellow Leaky friends (including the #1 Leakster herself, Jo Rowling) all the holiday cheer you want. Yes, nitpickers, it's related to Harry Potter: There hasn't been a book yet in which Christmas (unlike Halloween) does not star.

So it shall star here.
Have a great one, everyone!