The Giant Blue Candy and the Closed Door on JKR.com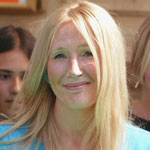 Dec 26, 2004
Uncategorized
There's a big blue piece of candy illustration in the place of JKR's "Extra Stuff" section on JKRowling.com. We didn't publish this as news at first because, well, a picture of a blue piece of candy isn't news. It's the picture (enlarged) of the piece of candy that has been behind every door of her Advent calendar.
But we wanted to let you all know we're aware of it (and to stop e-mailing

and if it turns out to be more than a glitch you can paint us all in happily surprised colors. For now, we're sticking with the glitch theory. Happy Christmas!
Update: Someone's been tidyingup around the site. Not only has the giant blue candy receded into its tiny foiled wrapper – the "Do Not Disturb" sign has sneaked back onto the door.
Also, as so many of you have noted, today is Jo Rowling and Neil Murray's wedding anniversary. Happy day to them!