PoA makes Rolling Stone's countdown list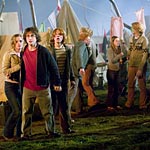 May 04, 2004
Peter Travers, movie critic for Rolling Stone magazine (who has been very hard on the series so far), put Prisoner of Azkaban in the number 10 slot on countdown of summer movies. (Catwoman is number nine.) Thanks to reader WhyDoesMilkSpill for this one!
OPENING DATE: June 4th
The first two Harry films wimped out, even though they cashed in.
WHAT'S PROMISING?: Puberty. Harry (Daniel Radcliffe), Hermione (Emma Waston), and
Ron (Rupert Grint) have reached the age where magic tricks aren't everything.

WHAT'S TROUBLING?: They'll go easy on the sex to protect the franchise.

KEY PLAYER: New director Alfonso Cuaron–he gave us the three-way in "Y Tu Mama Tambien"–is sure to bring fun to the Potter party.