Lexicon Receives JKR's Fan Site Award!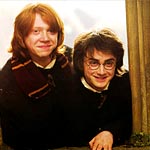 Jun 28, 2004
We're very proud to add our Floo Network partner, The Harry Potter Lexicon, as the next site recognized by JKR as worthy of a Fan Site Award:
"This is such a great site that I have been known to sneak into an internet café while out writing and check a fact rather than go into a bookshop and buy a copy of Harry Potter (which is embarrassing). A website for the dangerously obsessive; my natural home."
Congratulations Steve (who, trust me, is cartwheeling), and the Lexicon!