TLC Goblet Set Report Preview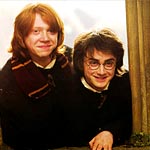 Jan 21, 2005
Uncategorized
By Melissa Anelli for TLC
size="3″>This also represents Emerson of MuggleNet's preview, who is ill at the moment and can barely type; suffice it to say he agrees.
The campsite blazes. Witches and wizards in their dowdiest Muggle clothing run screaming down muddied paths, their bloomers flapping on clotheslines while their flags burn in the wind. Harry ducks and rolls in the mud, nearly trampled by the frenzied mob, and then is swallowed by the crowd. Elsewhere, a spiked cage sits in the center of a round, columned chamber choked with paperwork and the musty feel of old courtrooms. A 30-foot, horned dragon haunches in wait. The Great Hall sparkles for the Ball, the Death Eaters are prowling in dark, pointed hoods and skeletal masks, the contingents from France and Bulgaria have made stunning entrances, Rita is buzzing, hormones are swinging, and at the mouth of a towering hedge maze, a hero screams over a young man's dead body.
This is Harry Potter and the Goblet of Fire as imagined by Mike Newell and his crew. As one of, if not the, most expensive movies ever made, it seems to also be one that will turn the Potter films, once again, on their collective ear.
As has been reported, TLC and MuggleNet, along with a handful of internet reporters, visited the set of this monstrous film in November, and we'll be bringing you every detail on the sets, the actors, the tank, the props, the costumes, the machinery, the grandeur, the pageantry, the everything that is shaping Goblet up as a film with a scale that makes even its closest competition (the other Potter films) look positively trinket-sized.
Expect that sometime this summer. For now, we can say that from what we saw, this isn't only going to be a big movie. It's going to be a fierce one. The much-acclaimed internal drama of Prisoner of Azkaban has been supplanted with an external grandeur that expresses itself in a blaze of spectacles and terrors with a very political edge. Things have been cut, as we have expected them to be; those who were angry at Cuaron for slicing from Azkaban are going to have to try and come to peace now with the fact that there are even heavier cuts here – it had to be done. But simply viewing a gallery of finished pictures – which we only wish we could have smuggled for you all – was enough to rekindle my fervor for this film, which at that time was so close to the furor over the release of Azkaban I feared I couldn't work up the excitement.
But after a day in which we saw the Quidditch camp, the Pensieve scene room, the underwater tank, the DADA classroom (Moodyfied), Dumbledore's office, the Gryffindor dorm and common room (dressed this time, as opposed to last), models for to-be-built sets, a trophy room, the acres of costumes for the film, the 30-foot animatronic Horntail dragon, and more – after a day in which we met the blushing Robert Pattinson (Cedric Diggory), composed Clemence Poesy (Fleur Delacour) and deceptively mild Stanislav Ianevski (Victor Krum) – after a day in which it became clear that Mike Newell is a mastermind at turning a flat scene into a hilarious one – we left Leavesden positively bouncing in anticipation.
We have to leave you all anticipating, too. But the wait will be worth it. I said last year that the Azkaban sets were incredible – well, they are dwarfed next to Goblet's. We can't wait to tell you all about it.