Oscar Update #2: PoA Loses Best Score Oscar to Finding Neverland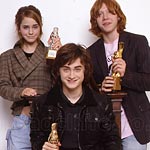 Feb 27, 2005
Uncategorized
Harry Potter and the Prisoner of Azkaban did not win the Best Original Score Academy Award for which it was nominated, its second and final nomination of the night. Finding Neverland won instead. PoA's score was written by John Williams, who has been nominated for an Oscar 43 times – besides PoA, most recently for Catch Me If You Can (2002) – and won five times – most recently for Schindler's List (1993) .
This and the Visual Effects nod were the Harry Potter film series' fourth and fifth nominations in total, the others being for Art Direction, Costume Design and Original Score in 2001, for Sorcerer's Stone. HP has yet to win an Oscar.
Stay tuned for screen caps from the event.