New ABC Commercial Airs with Goblet Footage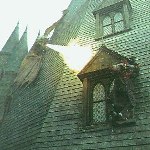 Apr 30, 2005
Uncategorized
During tonight's ABC television broadcast of Sorcerer's Stone, a new commercial for next week's special broadcast of Chamber of Secrets aired, showing new footage from the sneak peek of Goblet of Fire. Reports say a quick clip of Harry swiming underwater, Hermione at the Yule ball, and a shot of one of the dragons was shown, along with new photos of the trio discussing the film. We are trying to get more information about this as soon as we can. Anyone with screencaps please send them in.
UPDATE: Grace from RGMS.org let us know that they have the video –
PLEASE Right Click and Save…Click here to view.
Thanks Grace!
UPDATE #2: Matthew from Veritaserum also let us know that he has posted some high quality footage of the ABC spot as well. Check it out here! He has also posted some screencaps as well. Thanks Matthew!
UPDATE #3: Jenna from DanRadcliffe.com has now posted some screencaps for us to enjoy. Thanks Jenna!