USA Today Feature on Goblet of Fire Tomorrow?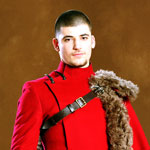 May 03, 2005
Uncategorized
TLC reader Riki let us know that on the front page of the print edition of the USA Today it reads:
Wednesday: Harry Potter preview

Exclusive sneak peeks at scenes from The Prisoner of Azkaban, the next movie in the popular series.
Well, although it is tempting to make a Quibbler related joke, it's clear that this is a mistake, and we think they obviously intended to say Harry Potter and the Goblet of Fire. Of course we will post if there is any new information in their paper tomorrow.
Thanks Riki!