JKRowling.com Updates: News about TLC Receives Fan Site Award, Set to Interview J.K. Rowling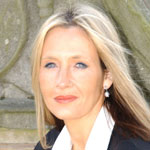 May 13, 2005
Uncategorized
Oh my lord am I glad I am awake at 4:13 a.m., as only a lunatic Harry Potter fan would be on this night.
This weekend marks the one-year anniversary of the opening of Jo Rowling's new Web site, and I thought this would be a very special day for very different reasons, and I had all our announcements PLANNED and WRITTEN, but now there's so much wonderful news I don't even know where to START. Thanks a lot, Jo, you've befuddled me COMPLETELY!
Okay, English: Leaky has just received JKR's Fan Site Award. I would say that with all the ebullience and freaking out it deserves (and believe me, I am proud fit to burst right now) but, something else brought my heart to a screeching stop about 10 days ago, and I'm still in a shocked sort of haze, and it's befuddling everything, not least of all because Jo has found the most amazing way to make me even prouder than I was already set to be on this day.
Read the Leaky citation to see why. More soon, when I can think properly again:
It is about the worst kept secret on this website that I am a huge fan of The Leaky Cauldron, which I have mentioned before now in News items. I have met one of its founders, Melissa, on two occasions; outside the Albert Hall before I did the reading for 'Order of the Phoenix' and after the premiere for 'Prisoner of Azkaban', and in a matter of mere months I will be talking to her properly as she will be coming over to Edinburgh to interview me on publication weekend.

'Leaky', as it is affectionately known to its many fans, is a wonderfully well designed mine of accurate information on all things Harry Potter. It also attracts a lot of knowledgeable and entertaining debate. So to Melissa, B.K., Kristen, Sue, John, Nick and Natalie, congratulations and thank you! And Heidi… thank you very much for the present for Mackenzie… she wears it often!