HBP Betting Raises Fears of Book Leak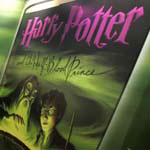 May 24, 2005
Uncategorized
This is London is reporting (based on a story in The Sun) that the betting on character deaths in HBP has skewed so far to one character in the town where the book is being printed that there are rumors the book has been leaked. (There is also similar conversation that the same character is the HBP.)
The character death is a rumor and nothing more, and if you read the article you'll discover it's really not that much of a reach for this character to be suspect, even without insider information. We're not naming the character here.
Also worth mentioning: I cannot remember reading, and cannot find a link to, any interview in which Jo Rowling says that there will even be a death in book six. If anyone out there has a legitimate quote, please leave it in the comments and we will repost it here – but as far as we at Leaky know, she's never commented upon deaths in book six specifically, only that there will be more deaths in the rest of the series (which she jokingly referred to as a "bloodbath" – ha ha, no, wait, not so funny, Jo!).
Update: There is now an article in The Scotsman. Also, Bloomsbury has sent us a comment (and no, they are not posting on our comments board, and whoever did so should be reminded how seriously we take impersonation of others):
"We do not comment on any aspect of the production or distribution of
"Harry Potter and the Half-Blood Prince" for security reasons," says a spokespeson. Regarding the Sun's story: "We would remind readers that the pre-publication speculation about which character would die in 'Harry Potter and the Order of the Phoenix' proved to be fairly wide of the mark. We suggest that all media speculation about 'Harry Potter and the Half-Blood Prince' should be taken with a pinch of salt."