Bloomsbury's Statement Regarding Stolen HBP; TLC's Spoiler Policy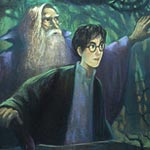 Jun 03, 2005
Uncategorized
Bloomsbury just sent us a statement regarding the stolen books incident:
"Bloomsbury Publishing thanks Northamptonshire Police for their help in recovering two stolen copies of Harry Potter and the Half-Blood Prince but cannot comment further as this matter is now the subject of a police investigation. We hope that nobody will spoil the excitement for all Harry Potter fans who are looking forward to reading the new book on Saturday 16th July."
Now is also a good time to clarify TLC's spoiler policy, which is as it's always been: If it comes from official sources (JKR, publishers, PR agents, agents), it will be posted here but behind links so that you can avoid being spoiled. If it comes from anyone or anywhere else – if The Sun sold eight stolen copies of HBP and used the proceeds to aid starving children in Africa, as they surely, being so noble, would do – STILL, not a word of what they print would ever make it to these pages. What would make it here is a warning telling you where the spoilers are, so you can avoid them if need be, and plenty of our disapproval about obtaining illegal copies of the book. We just can't help that, sorry.