Shhhhh. Potter books on the move!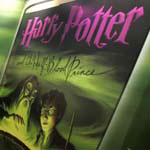 Jul 03, 2005
Uncategorized
Cincinatti's Enquirer reports on the secrecy surrounding the movement of copies of HBP from Scholastic to places like Amazon, that city's library system, and Mary GrandPré's workspace.
"We treat the (Harry Potter) books completely separate from other inventory," says Kristin Mariani, head of public relations. "There is a special area dedicated to nothing but processing this book. It is cordoned off and there is an 8-foot high barrier around the entire area.
"There are only a few entry points and those are guarded 24/7. Only people with special badges can get in. And they have to show their badge when they enter and leave."

She says the measures are unique to the Potter books.

Given their promise that the book will arrive on doorsteps on the release date they have to start shipping pretty early, right?

So I ask Mariani when shipping will begin.

She clams up.