Cub Reporters Full Interview with J.K. Rowling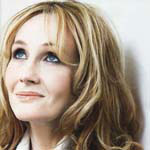 Jul 18, 2005
Uncategorized
CBBC Newsround has now posted the transcript of the 70 cub reporters interview with J.K. Rowling. While many of the questions we have heard in similar fashion before, there are a few new tidbits of information.
Peter Humphreys for BBC Newsround. – Who did Fawkes previously belong to and will he play a vital role in the next book?

JK Rowling: I am not going to answer about the role in the next books, which probably gives you a big clue, and he has never been owned by anyone but Dumbledore. You will notice that when Harry goes back in the Pensieve in this book, Fawkes is never there, and no, I am sorry, not in this book, I take that back. When Harry has previously seen the study with a different headmaster he saw it with Dippet and Fawkes was not there then. Fawkes is Dumbledore's possession, not a Hogwarts possession.

Samatha Scattergood for Waterstones – Which is your favourite member of the Order of the Phoenix?

JK Rowling: I keep killing all my favourite members of the Order of the Phoenix, but there is one member of the Order of the Phoenix that you have not yet met properly and you will­­, well, you know that they are a member, but you haven't really met them properly yet and you will meet them in seven, so I am looking forward to that.
Thanks Lisa!