Forbes: JKR 40th Most Powerful Woman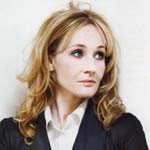 Jul 28, 2005
Uncategorized
Forbes.com has posted their list of the 100 Most Powerful Women, and our favorite author made the list. J.K. Rowling is ranked at number 40 on their list. Says Forbes:
Rowling, 40, is a media dynamo. Her Harry Potter books have sold a stunning 270 million copies in 62 languages worldwide. Her sixth installment of the Harry Potter blockbuster series, Harry Potter and the Half-Blood Prince, sold a breathtaking 6.9 million copies in its first 24 hours of release and is the largest-ever product debut on Amazon.com. Generating more than $100 million in revenue, her new book's debut is not only the richest opening in publishing history but also gave heart palpitations to the makers of the movie Charlie and the Chocolate Factory, which debuted the same weekend as the new book. This seven-year phenomenon is not letting up anytime soon, though Rowling has said the seventh installment will be her last. Harry Potter movies, with their antic capers of magic and wizardry at the Hogwarts School of Witchcraft and Wizardry, have grossed an impressive $2.5 billion to date, including DVDs.
US Secretary of State Dr.Condoleezza Rice holds the top spot.