Bulletin from Accio 2005: Severus Snape NOT GUILTY!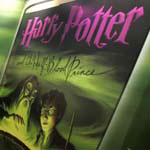 Jul 30, 2005
Uncategorized
This just in from Accio 2005 (the UK Harry Potter Conference) regarding the trial of Severus Snape for his conduct throughout the Harry Potter series…the verdict is…NOT GUILTY!
In an apparently stunning course of events, the nefarious ex-Hogwarts Potions Master has been cleared of all the charges leveled at him in a trial held at the UK Harry Potter convention taking place this weekend. The organizers of the trial, Asphodeline (Serena Culfeather) and Wolfsbaine(Liz Taylor), sent us this news via owl containing their dismay and suspicions to this verdict.
It is highly likely that the jury was rigged, as most of those pronouncing him not guilty on all charges were dressed in black, with the odd flash of green and sported long black hair and were drooling slightly at the corner of their mouths.
Click below for the rest of the letter – possible spoiler warning for those still reading book six.
We will of course continue to bring you more updates about this breaking news story when we can.
The fact that Snape was the last person to actually attack the late Headmaster of Hogwarts school, one Albus Dumbledore,(150 years old) seems not to have registered in the least, with certain jury members who were carrying, "Snape is Innocent" banners.
It is a failing of our justice systems across the world when, the man with the smoking wand, is allowed to walk free, and claim innocence. Especially, when previously the wizarding community have, on no evidence what so ever consigned other wizards such as the late Sirius Black to years in prison.
One can only assume the jury were paid handsomely to bring in their not guilty verdict.