Fiennes Committed to Fifth Potter Film; Talks Goblet on ComingSoon.net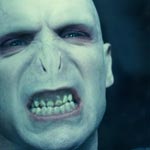 Aug 08, 2005
Uncategorized
Ralph Fiennes, who plays Lord Voldemort in the Goblet of Fire film, gave an interview to Comingsoon.net as part of press for The Constant Gardener, a new political thriller in which he stars.
He says he will play Voldemort in Harry Potter and the Order of the Phoenix, which will start filming in January or February and will be helmed by David Yates. He says of previous Potter films:
"Certainly Alfonso Cuaron lifted the whole filmmaking onto another level, and I think that Mike Newell is going to make a really strong film. I think as long as the producers are smart. I think probably the first two films were a little too saccharine and glib, even for Harry Potter fans."
Fiennes also dubbed his voice onto the Goblet of Fire video game, which you can preorder for many different platforms here at the Cauldron Shop.