Newell on Fiennes as Voldemort: "Cold and Chilling"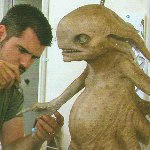 Sep 22, 2005
Uncategorized
In another interview posted on Sci-Fi Wire, Goblet film director Mike Newell now discusses actor Ralph Fiennes and his portrayal as Lord Voldemort in the upcoming Harry Potter movie.
"You have to have the actor to do it," Newell said in an interview. "And Ralph was the actor to do it, because Ralph doesn't chew the scenery, and he isn't a sort of 19th-century melodrama figure. He's absolutely real and cold and chilling and absolutely dedicated to doing bad. And as soon as you have that, you can do it."
Mr. Newell also discusses the character of Voldemort, and his motivations for becoming the Dark Lord.
"What does he want?" Newell asked. "Why does he want to come back? What sort of a person is he that he wants to come back? What sort of a person is it who wants to impose a reign of evil? Does somebody who wants to impose a reign of evil actually see that it's evil? Or is it in fact for them a kind of good? So there was a lot of that stuff, which is the sort of thing that you discuss with an actor when he's getting to really concentrate on the part. And that was all very, very profitable."
Mike Newell also goes on to say he hasn't yet read Half-Blood Prince due to time constraints, saying "It's another huge, wacky novel, and, simply, I've been busy," he said. "I obviously read the fifth one, because that has relevance…Nor did I change my view of things for any of the stories that might be coming up. I've been very strongly encouraged by the producers and by Warner Brothers to think of this as a specific one-off film."
Thanks to Hpana.