Calling all Lunas! Casting Begins for OoTP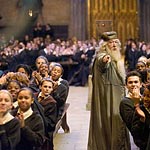 Sep 30, 2005
Uncategorized
Do you know your Crumple- Horned Snorkacks, or have an affinity for wearing Radish earrings and Butterbeer cap necklaces? Then do we have a job for you! CBBC Newsround is reporting that producers are in search of the perfect person to play the role of Luna Lovegood in the Order of the Phoenix film, which is due to begin filming next year. The casting team is currently visting schools in the UK. If you are a resident of the UK, then you can also send in an application to the following
Luna Lovegood Casting

c/o Harry Potter and The Order of the Phoenix

Leavesden Studios

PO Box 322

Hertfordshire

WD25 7XJ

You need to send a photo, your age and your contact details and please don't fax or phone the studios, only write.

They won't be able to reply to everyone, but they will contact anyone they're interested in auditioning for the part.
Yay, now you can stop asking us! 🙂 Good Luck! Thanks Julian!