Leaky Presents… Widgets!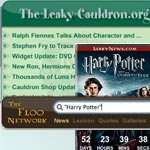 Oct 06, 2005
Uncategorized
The Leaky Cauldron is proud to present its first of what we hope will become a gallery of widgets. The first one is a countdown for Harry Potter and the Goblet of Fire designed by John Noe and coded by (don't pass out, now – this is quite shocking) me. You can get it for Dashboard (for Mac) or Konfabulator (Windows or Mac).
Widg-whuh, you say?
As Wikipedia puts it, "a widget is a small specialised desktop application that provides easy access to frequently used functions or provides some visual information." And, well, they're just cool. They can give you the time at a click, times for movies, Google searches, leave a calculator open for you…basically do a whole host of fun and functional things on your computer. You can drag them anywhere you want on your desktop. They're driven by a program – on Mac we like Dashboard, which comes standard with the latest OS (10.4 and up), and on Windows we like Konfabulator, which you can download free here.
This, our first widget, is just a cool looking thing that will count down the remaining days, minutes and seconds until the fourth movie comes out. Now, we have a ton of ideas for others, but none of us really have the time to do more. So if you are interested in helping create some for TLC and have experience in design or coding in dynamic HTML, XML, JavaScript and VBScript, drop us a line. You can submit them to us if you want, too!
Enjoy!