Cover Art to Goblet of Fire Soundtrack?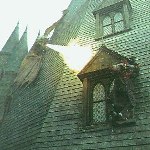 Oct 10, 2005
Uncategorized
Several sites are now showing what appears to be the cover art for Goblet of Fire soundtrack. This image appears to be the same one as on the brand new Poster recently added to Goblet of Fire.com featuring the trio and the Triwizard champions. Both Barnes & Noble and AOL Moviefone are showing this image, as seen here and here. We can not confirm if this is the final cover art yet, but we will update more as soon as we can.
Thanks to Yann from Univers-Fantastiques.org for the heads up!