New Interview with Dan Radcliffe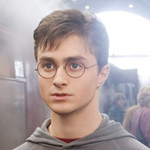 Oct 10, 2005
Uncategorized
Jenna from Dan Radcliffe.com has now posted her very cool new interview with actor Daniel Radcliffe, who portrays Harry Potter in the films. Topics range from music, books, to his dream of someday becoming a writer along with pursuing his acting career. There are also some great audio clips available of the interview as well. Note to fangirls: Please try not to scream too loud when Dan discusses filming the bathtub scene with Myrtle 😉
Click here to enjoy!
Thanks to Jenna and Dan Radcliffe.com!