Empire Online Interview with David Heyman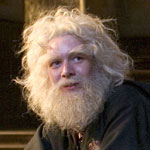 Oct 11, 2005
Uncategorized
Empire Online has posted a new interview with Potter film producer David Heyman, where he talks Dragons, one angry Hungarian Horntail Dragon that is. In the interview Mr. Heyman tell how in the upcoming movie, Harry Potter and the Goblet of Fire, the first task scene involving the Dragon is a bit different than in the book.
"It's one of the most powerful and dramatic scenes," he said. "We've departed from the book a little bit in the sense that the dragon breaks free of the chain that ties him and it leads to this dramatic chase through Hogwarts."
Note: the article continues on with one interesting tidbit; those who are trying to remain (somewhat) unspoiled are cautioned.
UPDATE: Empire has added a bit more with David Heyman who talks about actor Ralph Fiennes (Lord Voldemort) and his love of video games. He confirmed earlier reports that Ralph Fiennes has recorded voiceovers to be included on the new Harry Potter and the Goblet of Fire videogame coming out next month.