More on the GoF Soundtrack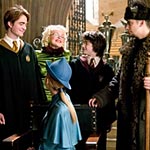 Oct 12, 2005
Uncategorized
A few days ago we told you about the cover art for the Goblet of Fire soundtrack appearing on several websites. The US Amazon has now updated with that same cover image, but has also added this brief new description of the CD:
Harry Potter and the Goblet of Fire, the fourth film (and soundtrack album) in the massively successful Harry Potter franchise-nearly $1 billion in U.S. box office alone-features a score by Academy Award-nominated composer Patrick Doyle and three songs written by modern rocker Jarvis Cocker, and performed by Cocker, Jonny Greenwood, Phil Selway, Steve Claydon and Jason Buckle-with all these musicians also appearing in the movie.
The soundtrack to the film Harry Potter and the Goblet of Fire is due to be released on November 15th.