Official Production Notes from Goblet of Fire Released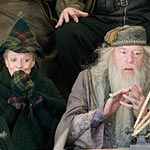 Oct 13, 2005
Uncategorized
Warner Brothers has updated their press site about many of the fall movies, including Harry Potter and the Goblet of Fire. The official production notes, and complete credit lists are now available and contain many great new tidbits of information. There are some excellent quotes from the new cast members and director Mike Newell and producer David Heyman. Some examples:
"It's quite hard to play someone who is is the essence of evil," muses Ralph Fiennes, whose career has encompassed a vast range of heroic, romantic and villainous characters in films such as The Constant Gardener, Red Dragon, Maid in Manhattan, The English Patient and his Oscar-nominated turn in Schindler's List. "In my discussions with Mike about the character, we talked about giving Voldemort human qualities, because to just play 'evil' is really impossible. 'Evil' is often conveyed through gnashing of teeth and a lot of spit. I wanted my portrayal of Voldemort to be deeply, truly evil. That comes from fear, frustration and unhappiness. Voldemort was a rejected child. He had a very unhappy childhood, and that's where his anger, jealousy and hatred began to fester."
Warning: Spoiler details about Voldemorts makeup and clothing also included.
Brendan Gleeson, who portrays Mad-Eye Moody, gives his thoughts about his character in the film.
"Moody is a gunslinger with a wand," says Brendan Gleeson, the versatile actor known for his powerful performances in films such as Braveheart, Cold Mountain, Troy and The Gangs of New York. "He's someone who has chased the demons away from goodness to the extent that he's gotten quite warped by it. One of the things Mike Newell suggested when we first discussed the character was that Moody's great wounds have damaged him greatly. It's a very interesting arc to play with this character, who comes into Hogwarts as death warmed over and grows into someone the kids learn to trust."
There is a method to Moody's madness, though his irreverent brand of tough love often terrifies his students and draws criticism from his peers. "What appealed to me about the character," says Gleeson thoughtfully, "is that he reminds me of some of my old teachers. He has no time for book learning or pussy-footing about. He wants to show these young men and women what they're up against- evil exists and they better know what they're getting themselves into. He's a one-man initiation ceremony, a walking rite-of-passage. He doesn't believe in treading lightly with Harry or the other students because that won't prepare them for the real world."
To read the entire production notes, click here
End credits (includes confirmation of Weird Sisters songs on Soundtrack by Jarvis Cocker and others), click here
Main credits, click here
Thanks to Hpana for the heads up.