Additional Magazine Articles on Goblet of Fire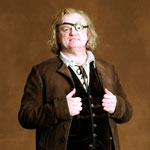 Oct 14, 2005
Uncategorized
There are two more magazine articles out now to add to your collection on the upcoming Goblet of Fire movie; Sci Fi and House & Garden. The December issue of "Sci Fi" magazine has a feature on Goblet of Fire called "Playing with Fire." Most of the interviews with Potter actors Daniel Radcliffe, Rupert Grint, and Emma Watson we have seen previously, and there are no new photos. There is this tidbit however, from Daniel Radcliffe, discussing how he felt when he met the musicians playing the Weird Sisters band. "I was so overly excited to to meet them, particularly Jarvis Cocker, I think I smiled a bit stupidly and made really cheesy jokes, I think. I can't really remember; it's all a bit of a blur, because I was kind of so almost overwhelmed to meet them." This magazine is available now.
Update: Dijares from Harry Potter's Page, let us know he has posted scans of the Sci Fi article here. There are also additional scans from Starlog magazine, which also covers much of the same information, but also includes a piece about the actors growing up through the course of making the four Potter movies. Thanks Dijares!
House & Garden, which had an excellent feature previously about the set of Prisoner of Azkaban, is also promoting the fantastic set of Harry Potter and the Goblet of Fire. In the Editor's Picks section on their website they have a small photo of the Yule ball set and say the following:
Icy Cool: Stuart Craig's set design for the last Harry Potter film impressed all of us here at House & Garden and won him an Oscar nomination. This time, Craig devines an equally creative and decoratively beautiful set, including the incredible ice sculpture-filled dining hall and crystalline table settings, bottom left. You can check out the sets for yourself when Harry Potter and the Goblet of Fire comes out on November 18th.
Anyone with scans from the November issue of House & Garden, please send them in!