More Goblet of Fire Videogame Info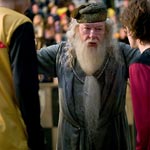 Oct 14, 2005
Uncategorized
IGN has now posted a new interview and screenshots about the PSP version of the Harry Potter and the Goblet of Fire videogame. They do reveal there are some features for the new game found only on the portable playstation version.
Are there any features in the PSP game that aren't in the other formats?

There are indeed. We wanted to focus more on mini-games that you can play in the car on the way to school or while waiting in long lines as an aside to the main game. We came up with four games: Dugbug Bulb Raid, Niffler Time Challenge, and two different card games that suit the PSP really well as they are not only great fun to play as a single player challenge, but you can also play them multiplayer wirelessly. The wireless capabilities of the PSP make it a great platform for kids to enjoy playing games together, wherever they are. As I said earlier, you don't have to be stuck in the house in front of the TV anymore to play, you can be literally anywhere.
Also, Gamespot has posted a review of the game, along with some new video clips of gameplay and new screenshots, here.
The Harry Potter and the Goblet of Fire videogame will be available on November 8th.