Goblet of Fire Photos Galore!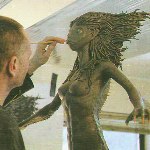 Oct 15, 2005
Uncategorized
Univers de Harry Potter let us know they have posted a batch of new, good quality photos from Harry Potter and the Goblet of Fire. There are new photos of Harry with Cedric, Dumbledore, Mad-Eye, a hilarious one of Crabbe and Mad-Eye Moody and more. Click here to view.
Veritaserum has posted two new behind the scenes photos including one of Dumbledore, Ron, Harry and even Snape..laughing

Click here to view. Update: A third behind the scenes photo of director Mike Newell and Michael Gambon can be seen here.
Finally MuggleNet via MuggleThai has posted some nice new character posters,here.
Phew! Enjoy! Thanks guys!