Potter Products O'Plenty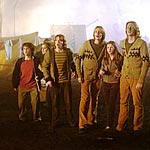 Oct 16, 2005
Uncategorized
While the calendar may say it's only October, many retailers are unveiling new Harry Potter products in time for all your holiday shopping needs. In addition to the Goblet of Fire tie-in books, posters, Legos, Video Games, Trading Cards, and Scene-It DVD game we told you about previously (phew!), additional new Potter products are now, or soon to be, on the market.
* Some of the Mattel Goblet of Fire toys are now turning up online. These new toys include the Herbology Class, Potions Class, Divination Class, and a set of three Mini-Relics.
* Hot Topic has many new Goblet of Fire related shirts available now, including cool Quidditch World Cup shirts, House logo shirts,Durmstrang shirts, Harry and Ron in their 'tuxes' for the Yule Ball t-shirts: there are even Death Eater t-shirts available. There are also some new postcards available for purchase as well.
* Bic pens will be selling three new Harry Potter fountain pens, as seen here.
* Target stores are already decking the halls for the holidays and offering many new Harry Potter Ornaments for sale (and yes, this editor admits she caved and today bought a new Harry Potter Christmas Stocking)
* Gentle Giant Studios will be adding two new busts to their Harry Potter collection, with a Dobby and a Dementor statue to be available early next year.