Straight from Durmstrang: Tolga Safer, Karkaroff's Aide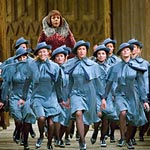 Oct 16, 2005
Uncategorized
As you've probably noticed from pictures, Igor Karkaroff's movie incarnation travels around with an aide. We recently had the chance to interview the actor who plays him, Tolga Safer, who shared some great inside stories about working on set, Mike Newell, how he got his role, what his role actually is, and more. Enjoy – click the link to read the whole thing!

Please tell us a little bit about yourself and what you enjoy.
[I was born in] London on 26th June 1982. I live with my parents and sister in London. I enjoy lots of things depending on my mood. One of my favourite things to do is to watch movies. At least once a week I pop down to Leicester Sq. and watch one or two movies. Like meeting up with my friends, going out and having fun.
How did you get into acting?
I started with school plays at the age of 7. I loved acting so much I started to take some classes at the Sylvia Young Theatre School in London. I did a few acting jobs as a teenager and just kept going.
What have been some of your favorite roles?
I've played a wide mix of characters from a street thug, gang member to a bell boy and soon I'll be playing the role of Jesus Christ in a movie called Me, My P & Lucy. I've enjoyed them all and it's hard to pick one but one of the most memorable was playing "Wayne," an art student who suffers from epilepsy in the BBC series Casualty. It was memorable because I was filming for two days, underground, in the dark, in freezing cold water. It was a fantastic experience and learning curve. Very memorable.
How did you get cast in Goblet?
I was originally seen for the part of "Viktor Krum" around Christmas 2003. I then went and met Mike Newell (Director) and the casting directors Mary Selway and Fiona Weir for a second time at the film studios. Two weeks later my agent phoned me and told me they were going with someone else for Viktor Krum but that Mike liked my auditions and that a part had been created and offered to me, the part of Aide to Professor Karkaroff.
Were you a Harry Potter fan beforehand?
Definitely. I was a big fan of both the books and the films, that's why it was the most amazing time of my life working on and being part of this movie.
If so (or if you've read the books since), which is your favorite book and why?
All the books are fantastic, but my favourite is "Goblet of Fire". "Goblet of Fire" was my favourite long before I became involved in the film. So much happens in this book; the new schools come to Hogwarts, there are new characters, the Tri-Wizard Tournament and Voldemort returns and takes shape. There is a great darkness and twists in this book which weren't as strong in the previous books.
Since Karkaroff's aide is not in the book, please tell us a bit about him.
Karkaroff's aide is just that, the assistant to Professor Karkaroff. People on set would joke that I was a 'mini-me' and I would agree, I'm like Karkaroff's "mini-me." The character is not a student like the rest of the Durmstrang boys, but a next in command after Karkaroff and friend to Krum.
What was it like to work with Mike Newell?
Mike Newell is an amazing man and a fantastic director. Mike directed one of my favourite films, Donnie Brasco, so I was a fan of his before GOF. I am extremely thankful to him for getting me involved in this film. He has great passion for what he does and does it to perfection. You can always see enthusiasm and passion in his direction and approach. He's an actor's director. Very involved and concerned with his actors and gives his direction, idea and vision fantastically.
If you could play any character in the books, who would it be and why?
I would have to say Snape. Snape is a great character in the books and is played amazingly by Alan Rickman in the movies. I like Snape because there is a sense of mystery about him. His intentions and whether he is a goodie or baddie, so to speak, are always in question. Apart from Dumbledore I don't think anyone is 100% sure, and I like that.
Prior to Goblet, had you ever worked on anything on as big a scale?
No, prior to Goblet, I hadn't worked on anything on such a huge scale. I think very few actors get to work on anything as big as a Harry Potter movie, and they don't get much bigger then Harry Potter.
What was the funniest thing to happen on a Goblet set?
Being on set was great fun, but for me whenever Sir Michael Gambon was around it was great. He is naturally very funny and witty and made me laugh whenever he was about. Considering he is a living legend he made people feel very comfortable and always made the effort to have a chat with me before going on set or between scenes.
Which set was your favorite and why?
The Great Hall set is mind-blowing. I remember seeing it for the first time. I didn't expect it to be as big as it appears on screen. After being on the set for a while you almost forget that it's a set in a studio. People are in for a great treat with the Yule Ball set in the Great Hall, it really is magical!
You mentioned the dance rehearsals, of which we've heard many stories…so be honest, how many feet did you step on?
In total I stepped on approximately 16 feet. I don't think I was bad to be honest but you would have to ask my partner, Alison that question. Bonnie (Ginny Weasley) and I were partners in a dance rehearsal, it was hilarious, we laughed non-stop, though our dance tutor did say we were one of the better dancers.
It didn't take long to learn the routine, I would say that I was happy with it after the second day of rehearsals. I have danced before. I learnt different types of dance whilst at Sylvia Young Theatre School. My parents are great dancers, so I think I've taken after them in that respect, and I do enjoy it.
You mention in your biography that you've done some Shakespeare; are you well-versed (no pun intended) in his work and if so, what are your favorites and why?
I do like Shakespeare. I studied it quite a lot at school and college and have seen plays and movie adaptations. I've seen King Lear at the Barbican Theatre in London, where the late Nigel Hawthorn played the King fantastically. Shakespeare's work is timeless. I recently saw the movie adaptation of The Merchant of Venic with Al Pacino as Shylock. It was brilliant, Al Pacino in particular!
Your bio says that you are "crazy with my funky style" – so please describe for us a perfect outfit!
Depends on whether I'm going for a formal look or a smart casual look. Recently I bought a couple of velvet jackets, one blue the other a plum red, from Camden Town in London. I wear a white shirt or a t-shirt with one of the jackets, my light blue Luca jeans and my white Puma 'armadillo' shoes. I like to be original!
~*~
Thank you, Tolga! Also, for more info, check HPANA's recent Tolga interview!