Julie Comes to Leaky!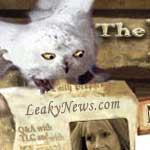 Oct 17, 2005
Uncategorized
As those of you who were around here an eon ago remember, we not-so-recently put out a call for editors. We're very proud to announce our first new editor from that bunch, Julie Tynion, who was just too sweet, too persistent, too knowledgeable, and too enthusiastic for us to turn away. We hope you'll join us in welcoming her to the Leaky fold – we are thrilled to have her! Her pic and bio are below, her first post should crop up around here this week, and if you want to meet her properly, listen to PotterCast in the next few weeks!
(Also, if you subscribe to our notifications and got an email announcing her before this one – don't mind it. We were testing and we hit the wrong button. Not very technologically savvy girls are we!)
Julie Tynion (Editor) is a full-time Professional Mom to four kids (and a bigger Potter fan than all of them put together!) and part-time volunteer for a variety of non-profit organizations, including the Komen Race for the Cure, First Stage Children's Theater (Milwaukee, Wisconsin) and the Jane Austen Society of North America. She is a graduate of Smith College — long before most Leaky readers were born! — and received her Master's Degree in Clinical Psychology from Marquette University. Her Master's thesis was on Depression in Children, because of which she found Jo's description of the Dementors to be especially haunting and evocative, and just plain brilliant. Julie is thrilled and honored to be joining the Leaky staff.
Welcome to Leaky, Julie! And to the gazillions who applied: we have all your applications and are still going through for more!