JKR Original Drafts Featured on UK Television Show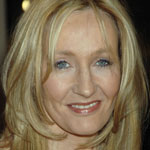 Oct 18, 2005
Uncategorized
Earlier this summer, we told you that Harry Potter author J.K. Rowling was donating some original hand-written work for display at the Centre for Children's Books in the UK. Reader Wendy let us know that a television program is set to air on Channel Five in the UK that will show these drawings. The television schedule notes:
Michael Rosen's Treasure of Children's Literature (Documentary)
Time – 19:15 – 20:00 (45 minutes long)
When – Tuesday 25th October on five
Arts documentary. Writer, poet and broadcaster Michael Rosen explores the world of children's books at the newly opened Centre For Children's Books in Newcastle Gateshead. He and illustrator Quentin Blake delve into rare manuscripts and drawings, including JK Rowling's own pictures of Harry Potter; and talks to authors including Phillip Pullman and Jacqueline Wilson about the secrets behind some of our best-loved stories.
The Centre has this mention of this program as well. Anyone with a tape and/or screencaps please send them in!
Thanks Wendy!