UK Goblet Film Rating, Trailer News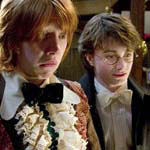 Oct 19, 2005
Uncategorized
In the UK Harry Potter and the Goblet of Fire has now been officially given a 12A rating. Here in the US, Goblet is rated PG-13. CBBC Newsround reports
"Examiners decided that the 12A was the most suitable category, as younger or more sensitive viewers could be frightened by some of the more intense scenes (which I can't reveal as you'd get upset with me!).

"The ending was a shock too, although maybe if you have read the books, you'll be expecting it anyway. At 12A, we allow moderate level violence, but without focus on injuries or blood."
There is also an interview with one of the examiners who rated the film, who had this to say about the changes in the films over the years.
You can really spot the differences in the four films. The first one, Harry Potter and the Philosopher's Stone, was classified back in October 2001 and Harry and his friends were so sweet and innocent then!

As the characters have become teenagers and are more experienced in magic, the tone of the films has become darker, the moments of intensity more frequent and there are far fewer jokes and lighter moments. The result is that this is the first Harry Potter film at 12A. Be prepared for a very different film to the first three!
Finally, reader Julian let us know that there is apparently a new trailer or commercial due to be airing in the UK, as there was a new spot recently rated on the British Board of Film Classification website. "Trailer 4″, as it is listed, has a running time of 33 seconds. Anyone with video or caps, please let us know! Thanks Julian!