Extra! Goblet of Fire Preview Footage: Complete Ferret Scene, Clips with Radcliffe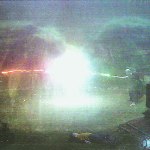 Oct 20, 2005
Uncategorized
The Extra! TV program with the segment on Harry Potter and the Goblet of Fire has aired in many parts of the US tonight. There was footage of the Ferret scene, a brief clip of Harry confronting Draco, and interview clips with actor Daniel Radcliffe. The footage is here. Enjoy! Thanks to HPANA for the tip!
UPDATE: View the WHOLE ferret scene by right-clicking and saving this file. Thanks everyone!
UPDATE:Finn let us know that Extra! has now posted the video and slide show on their website as well as this article. Quotage:
According to Radcliffe, the now-teenage Harry seems vulnerable for the first time in number four: "Harry's life is out of his hands. He has no control over where he's going. I think that's a big thing for Harry because it completely unsettles him, and so he sort of loses control a bit."
Thanks Finn!
Also, Oliver from Into the Pensieve let us know he has the Windows Media version of the clip as well, here. Thanks Oliver!