New Widget: Harry Potter News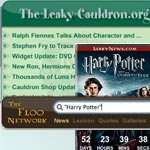 Oct 20, 2005
Uncategorized
Our widget gallery has been upated with our newest widget from one of our newest widgeteers, Chris Chang.
color="maroon">Update: This widget has been honored as an Apple Staff Favorite!
This one is the Harry Potter News Widget, a first of its kind, downloadable here. This widget provides you with a constant feed of your HP news, directly from TLC. Preferences include switching house colors to suit your fancy, and a sorting hat that will do it for you if you can't decide! (Screengrabs: front, back.) (Yes, the listing on Apple says 'sorting house' – whoops. It's sorting hat, we know, it's getting fixed.)
This widget is currently only available on Mac OS X's Dashboard, though we're working on a version for Konfabulator, which will allow Windows users to enjoy it as well.
What's a widget? Read up on Wikipedia.
Enjoy, guys! We have a lot more in the works!