Vote for Leaky on the TriWizard Tournament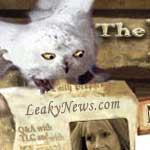 Oct 20, 2005
Uncategorized
TLC is taking part in this year's WB-sponsored TriWizard Tournament, run on Dissendium.com. Over the past six months fans have been voting on which webmasters of which sites will be elected as one of three "School Captains." Leaky came in the top 10. Now you vote to put us in the top three by registering here and voting here.
When you register, you're sorted into a house: Hogwarts, Beauxbatons or Durmstrang. The top three votegetting webmasters will become captains of these schools, and the "students" of the schools will compete for their school's victory by winning points for your house through a series of challenges involving trivia, scavenger hunts and other varied activities over the next few months.
So, yeah. Vote for us. Because Emerson enlisted a kitten, lots of money and lots of iPods. So we're gonna need your help. Yours and my cousin Vinny's.