Radcliffe in Dreamwatch Magazine Sneak Peek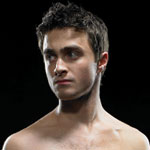 Oct 25, 2005
Dreamwatch has allowed us a special sneak preview of their latest magazine, which features Dan Radcliffe on the cover and an interview with him, Rupert Grint, and Emma Watson inside, as well as with several effects engineers. A peek at the interview:
"I think [The Goblet of Fire] will divide people because I'm not sure how some will react to the death [of a major character] and also to me being cut open and tortured by Voldemort [played by Ralph Fiennes]. All of that stuff is pretty hard-hitting, particularly for something that is considered a kids' film," says Harry Potter star Daniel Radcliffe.

…

"I don't think we are kids anymore. A lot of people who were first kids [when they watched The Philosopher's/Sorcerer's Stone], who were 11 or 12, are now about 15 or 16. So I think it will divide people, but I love anything that does that, really. Anything that splits and audience, I think that's quite good."

…

"The relationship with Dumbledore is very interesting because it is that which really forces Harry to grow up very fast," Radcliffe says. "Part of growing up and becoming an adult is realizing that other adults aren't perfect and don't know everything. And so for Harry to experience that first-hand has a big impact."
The issue will be on sale Oct 27; click here for a sneak at peek at the cover.