Reuters Photos, Video Interview with Mike Newell, Dan Radcliffe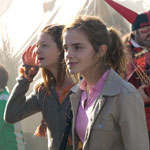 Oct 25, 2005
Uncategorized
Reuters has now posted a short video interview with Goblet of Fire director Mike Newell and actor Daniel Radcliffe. There are only short clips with these two, and most of the piece is the trailer for the film. Note: If you have trouble with the link, once at the video section,scroll down to the Entertainment Section, and click by the photo of Harry, where it says "Harry Potter and the Goblet of Fire"
There was also a photocall today, and Reuters has the new photos of some of the cast members, here. Enjoy!
Update: You can see more of these photos here at Yahoo.