Additional Cast Appearances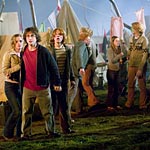 Oct 26, 2005
Uncategorized
We have several more upcoming cast appearances to let you know about. Geraldine from Universharrypotter.com let us know that Warner Brothers has confirmed that actor Daniel Radcliffe and Clemence Poesy will be attending the premiere of Goblet of Fire in Paris, France on November 8th.
Hpana is reporting that Daniel Radcliffe, Emma Watson and Rupert Grint are to be on the ITV program Ministry of Mayhem Saturday morning. Anyone with video or more information, please send it in!
As reported by Snitch Seeker, Emma Watson is due to appear at a store in the UK called Marks & Spencer (Marble Arch, London store) this Sunday, October 30th, to judge a contest and sign autographs. Hpana now has more info on this event, noting that the costumes from the Yule Ball will be on display. You can see photos and more, here.
Dan Radcliffe.co.uk reports that actor Daniel Radcliffe will be appearing on the "Friday Night with Jonathan Ross" program Friday, November 4th.
Thanks to Snitch Seeker, Universharrypotter, Hpana, and all the readers who sent this in!