Last Day to Vote for Leaky in TriWizard Tournament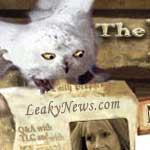 Oct 26, 2005
Uncategorized
Hi all – today is the last day to vote for Leaky over at Dissendium.com, where we're taking part in the TriWizard Tournament that is produced in association with WB. For the past week or so you've been voting on school captains by registering here and voting here.
When you register, you're sorted into a house: Hogwarts, Beauxbatons or Durmstrang. The top three votegetting webmasters will become captains of these schools, and the "students" of the schools will compete for their school's victory by winning points for your house through a series of challenges involving trivia, scavenger hunts and other varied activities over the next few months.
Remember: Vito, Joe and Fat Louie are watching. Vote for us.