Muggles Steal Arthur Weasley's Car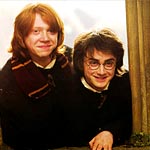 Oct 28, 2005
Uncategorized
Muggle Media Channel BBC is reporting that our own Arthur Weasley had his beloved blue flying Ford Anglia car stolen from the South West Film Studios in Cornwall. Arthur Weasley, well known friend to the Muggles, had lent his car which was used in the movie "Harry Potter and the Chamber of Secrets" Reports say:
" the car vanished between 5.30 p.m. on Wednesday, October 26 and 4.15 p.m. the following day. The car, which could not have been driven, could be seen from the road.

Police said: "The thieves may not have known its connection with the films and just thought it was a classic car, or it may have been a Harry Potter freak."
No word if Dung Fletcher or Willy Widdershins were involved in this case. This editor suggests they go look in the Forbidden Forest.
We've also heard reports of a female voice screeching across the British countryside: "CAR GONE! NO NOTE!"
Many thanks to the witches and wizards who sent this in! Constant Vigilance!