Interview with Goblet Composer Patrick Doyle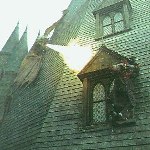 Oct 29, 2005
Uncategorized
The Times has published a new interview with composer Patrick Doyle, who speaks about his new soundtrack for Harry Potter and the Goblet of Fire. He speaks of his native Scotland, and the influence of that music in his new score saying "The Scottishness comes through in my music…There's a musical phrase in Harry Potter before one of the challenges that's very like a Scottish snap-it's an octave leap thing." Mr. Doyle goes on to address topics such as taking over composer duties after John Williams, and discusses what it has been like to work in the Potter world.
"I'm particularly proud of my score for Harry Potter because it's the biggest commercial picture I've ever done," says Doyle. "It's an enormously high-profile project and the pressure is substantial. I've done enough now to be confident I could pull something out of the bag, otherwise I wouldn't have taken on the job. It's been hard work but hugely enjoyable and it's made me a bit of god among my kids."

The complexity and maturity of Rowling's book, with its new characters and dark themes, provided Doyle with a challenge to relish. "I've never written so many different themes, waltzes, dances and motifs," he says. "It"s been a great opportunity to explore new ideas."
You can hear the entire soundtrack to Harry Potter and the Goblet of Fire courtesy of AOL, here. It will be released on November 15th, and you can pre-order it here in our Cauldron Shop.