Weird Sisters Clip on BBC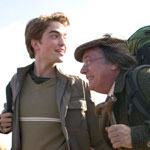 Oct 29, 2005
Uncategorized
TLC Reader Fionnuala let us know about a special that aired last night on BBC4 featuring the singer Jarvis Cocker. This special contained a new clip of the Weird Sisters at the Yule Ball. Jarvis Cocker spoke a bit about why and how he approached the writing of the group's songs for the Goblet of Fire film. Finnola writes about the description of the group:
they looked a bit like
the band from Velvet Goldmine- very glam rocky, with Jarvis dressed in a black, feathery gilet. Flitwick was being carried across the crowd on his back, looking distressed; this was very, very funny.
Sounds cool! Anyone with video or caps of this, please send them in!
Thanks very much Fionnuala!