NewGoblet Ad Number 10 Million and 12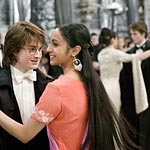 Oct 30, 2005
Uncategorized
Continuing the seemingly endless parade of new clips and ads, there is yet another brand new commercial for Harry Potter and the Goblet of Fireonline, courtesy of The Movie Box.net. This spot shows Harry and Ginny (aw!) at the Quidditch World Cup in their festive hats, Ron lamenting his dress robes, new shots of the Horntail, the champions diving into the second task, and a captured Barty Crouch saying 'Lord Voldemort is back!' Click here to view (Quicktime).
Update: If you are having trouble seeing the spot, Oliver from IntothePensieve.com let us know he has the video for download here. Thanks Oliver!
Thanks to Veritaserum and all who let us know!